Icon:
Patricia Elvina Hansen
Born:
17th March (pisces) 1956, Staten Island, New York., USA
Height:
1,75 m
Known-for:
wife of The Rolling Stones guitarist Keith Richards, model, actress
Story:
Patti was youngest of the six children and she was discovered by photographer Peter Gert at the age of 14. She was signed to
Wilhelmina Models
modeling agency and moved to Manhattan to pursue modeling career while attending
Professional Children's School in Manhattan
. She soon gained success at modeling and she appeared on covers of
Seventeen, American Voque, Cosmopolitan, Glamour
and
Harper's Bazaar
and she was the face for
Calvin Klein
and
Revlon
. Patti was complemented as a real deal with bubbly sense of humor, apple-pie looks and unspoilt sense of decency. In early 1980's she quit modeling and started acting career. She appeared only in three films and she has returned to modeling when Calvin Klein used 70's era models for his 1993 collection and other occasions. Patti met Keith Richards through Jerry Hall. The couple married December 1983 in Cabo San Lucas, Mexico. Couple have two daughters, Theodora and Alexandra.
Style:
Nordic looking Patti has her family roots in Norway. Her glowing skin and honey blond hair just scream natural healthy. She feels to be naturally happy in her own skin which is always perfectly tanned and trendy clothing is outshined by her pearly white glowing smile. She isn't the pale femme fatale, but the all American happy girl having a beer and pizza with her friends. She seems to be wearing comfy clothing even if they are leather and lycra. Patti is all about looking pretty and natural even when wearing naughty leather pants and sexy minidresses.
Young Patti modeling and showing her freckles on great tanned skin.
Patti and Keith marrying in 1983 while Mick Jagger is performing best man duties.
Crazy Patty showing her tanning in loose white crochet detailed loose top.
Patti showing her rock chic with dark eye make up, leather blazer and animal printed top.
Patti wearing thin silk scarf loosely around neck and 80's style loose leather jacket with hair updo.
Patti and Keith making the most of the night. Patti wearing black leather pants, white loose 80's blazer, crochet shoulder bag and scarf loosely on neck.
Patti all glammed up in metallic mini halterneck dress .
Patti all natural in great tan and white jumper.
Patti on her mummy duties wearing white linen blouse and white jean cut offs.
Grown up Patti wearing stylish all black outfit, honey blond hair and her trademark tan.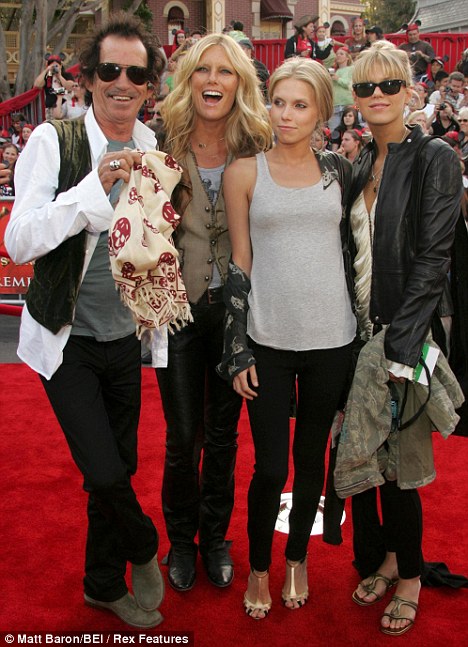 Richards family where mummy is every inch of a style icon .
Patti with all of her trademark assests - great tan, great shiny honey blond hair, sexy eyes, nude lips, dark leather and lighter beige top making the most of her natural colouring.
How to get the All American Blonde look?
Think natural looking honey blond shiny hair with a bit of darker roots, tanned natural looking skin, possible freckles showing, smoky eye makeup, nude lips, earthy colour tones, white and black, blazers, fitted pants, loose tops, silky scarfs loosely on neck, small necklace, minimum jewelry, black pointy toe pumps, flat boots.