Icon:
Jo Karslake a.k.a. Jo Wood
Born:
15th March (pisces) , Benfleet, Essex, UK
Height:
-
Known-for:
ex-wife of The Rolling Stone guitarist Ronnie Wood
Story:
Jo was born to an architectural model maker dad and Avon lady mum in Essex, UK. She has aone sister and two brothers. She attented local convent school which she left at the age of 16. She worked as a model until she was 22 and she was The Sun magazines "Face of 1972". She met Ronnie Wood in 1977 and they were married in January 1985. The couple had two children, Leah and Tyrone. Jo had her first son Jamie at the age of 18. Jo accopanied Ronnie regularly on tour looking after his wardrobe and diet. She has lived in Los Angles and New York but is now settled in London. When living in New York she designed clothes for the fashion label "No Scruples". Following a serious illness in 1989, Jo began to follow a strict organic lifestyle and in 2005 she lanched her own range of organic cosmetic products, "Jo Wood Organics". Jo and Ronnie split up in 2008 after Ronnie walked out on Jo to live with an 18 year old cocktail waitress.
Style:
Jo has said her style icon is Brigitte Bardot and it shows on her glamorous but girly outlook. She still relays on smoky dark eyes, nude lips and sexy messy blonde hair. Her style has always been spot on trends with rock twist. She still wears her black leather and printed t-shirts when wants.
Jo's first modeling pictures in 1972 taken by her friend . She is wearing typical 70's outfit of skinny fit button blouse and high waist bell bottom pants.
Hot and sexy in country side check.
Jo smoking hot 70's disco look with straight long hair and long thick bangs, black halterneck dress, waist belt, black tights and white jacket.
Jo with her family. She is wearing bouffant 80's bob and baggy bright yellow top.
Jo and Ronnie in their wedding in 1985. Jo wearing every inch trendy 80's satin and lace wedding dress.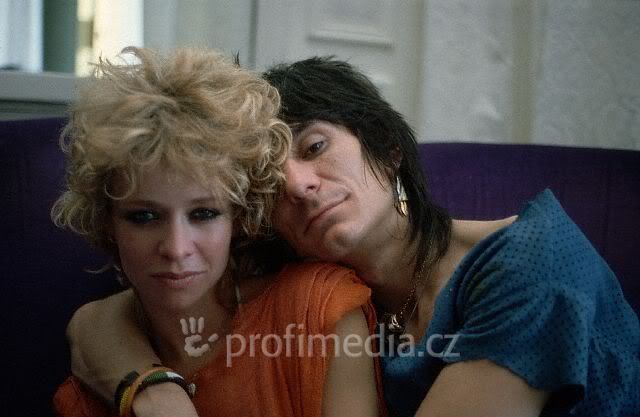 80's lovers. Jo trusting smoky black eyes and nude lips and wearing hair big. Her loose shoulder padded bright orange top is also all 80's.
Jo wearing black blouse and black leggings for a stylish rock look.
Jo in loose white top, black micro shorts, studded belt and black stiletto heels for a true rock'n'roll look.
All grown up Jo still wearing black skinny pants, printed t-shirt and black blazer for rock street chic.
Jo hitting the fashion show front row . She is trusting skinny leather pants, black stiletto heels, printed shirt and black jacket.
Sexy Jo wearing her best Brigitte Bardot image with hair updo, classic blazer and ruffle blouse.
How to get the Rock Bardot look? Think long blonde hair with bangs, dark smoky eye make up and nude lips, black sexy dresses, stiletto heels, skinny pants, baggy tops and jackets.