Icon:
Edith Minturn Sedgwick a.k.a Edie Sedgwick
Born:
20th April (taurus) 1943,Santa Barbara, California, U.S.A. - 16th November 1971
Height:
1,63 m
Known for:
actress, socialite, fashion model, heiress, Andy Warhol's superstar, relationship with Bob Dylan
Story:
Edie was born to old wealthy family in California. Despite wealth and high social status Sedgwick family had troubles with artist dad's mental problems and all the family children had troubled relationship their father. Edies oldest sister Alice evetually broke contact with family and her two older brother Francis and Robert both died prematerly. Francis comitted suicide in 1964 in psychiatric hospital and Robert, who also suffered from mental health porblems, died in motorcycle accident in 1965. Edie also had problematic relationship with her father and she suffered from anorexia from teen years. She moved to New York in 1964. There she met pop artist Andy Warhol who made Edie his "superstar" replacing Baby Jane Holzer. Edie starred Warhols movies Kitchen, Vinyl and Poor Little Rich Girl. She was described as Warhol's Marilyn Monroe. She left Warhol and his studio The Factory in 1966. After her estrangement from Warhol's inner circle, she became close to Bob Dylan. Dylans songs "Just Like a Woman" and "Leopard-Skin Pill-Box Hat" are purportedly about Sedgwick. Their relationship ended when Edie found out Bob had actually married Sara Lownds few months earlier. In 1966 Edie had an intensive relationship with Bob Dylans close friend Bob Neuwirth. In early 1967 Neuwirth broke off their relationship unable to cope with her increasingly heavy addiction to drugs and erratic behavior. In 1967 before her death she also appeared in film Ciao!Manhattan but she wasn't famous without Warhol. She also did some modeling and she was considered as 60's style icon. In July 1971 Edie married Michael Post and under his influence she quitted alcohol and drugs for a short time. Sadly she suffered also from mental problems and quickly again became addicted to barbiturates prescribed to her physical illness. Edie died of drug overdose in 1971 at the age of 28.
Style:
Her Factory days trademark look was black leotards, mini dresses and large chandelier earrings. She had her hair cut short and coloured her naturally brown hair with silver spray, creating similar look to the wigs Warhol wore. Later after leaving Warhol and The Factory, Edie grew back her natural brown hair, but she is always remembered from her edgy look as Andy Warhols Superstar.
Innocent looking Edie with her long natural brown hair.
Superstar Edie with short blond hair, chandelier earrings, black and white tunic dress and black tights.
Edie in her signature big earrings, tunic mini dress and black tights.
Edie having a smoke in pink maxi dress.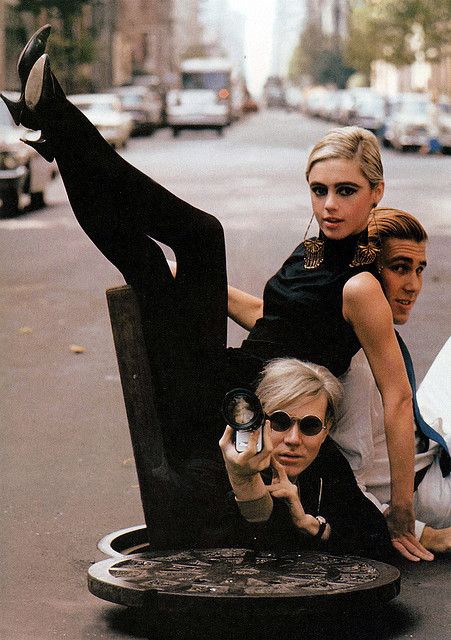 All the style in black shift dress, black stockings, black pumps, dramatic makeup and bigger than big earrings.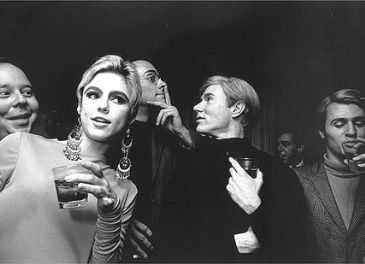 Edie in shift dress and earrings having a drink.
Edie in metallic crop top and pants partying with Andy.
Edie in shift dress and cocoon style fur coat.
Leopard fur coat to give trashy wibe.
Edie in simple classic outfit of turtle neck jersey mini dress, black tights, knee high boots, big earrings and teased up hair.
Edie all natural and pretty in her wedding with Michael Post.
How to get the Factory girl look? Think short blod hair, heavy black make up and thick dark eye brows, nude or pale lips, skinny thin body, shift dresses, jersey mini dresses, black tights, ballerina pumps, pumps, cocoon style fur coats, big chandelier earrings, graphic 60's desings such as stripes.