Icon:
Mary Angela Barnett a.k.a Angela Bowie
Born:
25th September (libra) 1949, Cyprus
Height:
1,75 m
Know for:
American model, actress, ex-wife of David Bowie
Story:
Angela was born in Cyprus to polish born mother and mining engineer father who ran a mill for Cyprus Mines Corporation. She was born an American citizen and was educated in Cyprus, Switzerland and the UK. She has one older brother. She met musician David Bowie in London, UK in 1969 at the of 19. She married Bwie one year later in March 1970 and she gave birth to their son Duncan Jones in May 1971. She started using surname Bowie after marriage even though it wasn't his husbands real name. Bowie wrote such songs as "The Prettiest Star" and "Golden Years" about her. She often accompanied him to his international concert tours and she also tried to make her own career in acting. Angela and David got an divorce in 1980 and she called it later "marriage of convenience". When divorcing Bowie she had already begun longterm relationship with punk musician Drew Blood. She gave birth to their daughter Stacia Laranne Celeste Lipka in July 1980. Angela has published two autobiographies, "Free Spirit" in 1981 and "Backstage Passes: Life on the Wildside with David Bowie" in 1993. Later book detailed her alledged drug-fueled and openly bi-sexual lifestyle with her former husband and many other well known musicians. She has appeared later in few films and published some music.
Style:
Angela is the original androgynous fashion amazon. She has played with costumes, mens wear and ultimate glamour image. Her trademarks are short platinum blond hair, thin lean boyish body and free spirited sexuality. Her sexy outlook is not based on traditional feminity with long hair or curvy body, but on androgynous free spirited sexuality which allowes her to look or wear anything. Often she still wore ultimate feminine dresses, pencil skirts and high heels to give girly wibe to her masculine physics.
Mary Barnett/Angela Bowie. She is wearing short blond hair and shiny make up. Minimum mascara and hardly there eyebrows gave her trademark androgynous look.
Young David and Angela wearing hippie attires.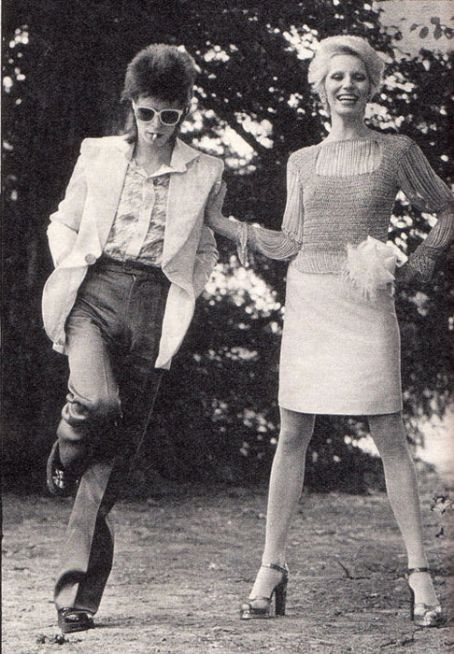 Angie wearing high platform heels, pencil skirt with corsage and metallic jumper.
Disco queen Angela in white satin Marily Monroe-dress, big earrings, short platinum blond hair and heavy 70's make up.
Queen of the scene in fur, polka dot dress and platform heels.
Angela in left wearing green micro shorts, black satin blouse and short spiky hair with pink stripes.
Night club amazon in see trough top, waist belt, pencil skirt and leopard print jacket.
Happy families with husband David and son. Angela wearing black PVC outfit.
Angela is still wild and wearing her metallic sandal heels.
How to get the look? Think short platinum blond hair, thin plugged eyebrows or no eyebrows, heavy eye makeup, lipstick and blush under the cheek bones, thin long body, metallic tricot clothes, floaty satin dresses, platform sandal heels, big earrings, skirts, pencil skirts.