Icon:
Marianne Evelyn Faithfull
Born:
29th December (sagittarius) 1946 London, UK
Height:
1,65 m
Known for
: English singer, songwriter and actress, former girlfriend of Mick Jagger
Story:
Faithfull was born to a professor father and former ballerina mother. Faithfulls divorced when Marianne was six years old and she moved to Reading with her mother. She attended St. Josephs Convent School where she was also a member of the Progress Theatre. Faithfull started her singing career in 1964 landing first gigs in coffeehouses as a folk music performer. She soon became a part of London's swinging 60's exploding social scene and gained success with hit song
As Tears Go By
. She married artist John Dunbar in 1965 and she gave birth to their son Nicholas later same year. In 1966 she became best friends with Anita Pallenberg and started to hang out with Rolling Stones. Soon she left her husband and started a relationship with Mick Jagger. She became addicted to cocaine and suffered a miscarriage of Mick Jaggers daughter. Faithfull's involvement in Jagge's life would be reflected in some of the Rolling Stones best known songs such as
Wild Horses
and
Sister Morphine
. Faithfull and Jagger ended their relationship in 1970 and she lost custody of her son the same year which led to her attempting suicide. She lived on London Soho street for two years suffering form heroine addiction and anorexia nervosa. In 1979 she published an album
Broken English
which returned her career in full force and was critically success. She married punk band
The Vibrators's
Ben Brierly same year. She still battled her addictions through 80's and she divorced Brierly in 1987. In 1988 she married writer and actor Giorgio Della Terza but also they ended in divorce in 1991. In 1994 she published and autobiography, entitled
Faitfull
. In 2007 she published a second volume of her memories called
Memories, Dreams and Reflections
. During years she has made own music and gained moderate success and she has also worked as an actress in theathre, television and film.
Style:
Marianne is one of the original 60's fashion icons. Her style is still loved and copied until today. Her career started as a young folk pop singer, who was mostly pretty young thing. She wore typical 60's shift dresses and got girls to follow her style. After meeting the bad boys of London, the Rolling Stones, her style got more wilder and darker tones and she got her own very distinctive style with fur, lace, leather and a shorter hair do. Marianne has accused Kate Moss for stealing her style, but she will always be the original fashion muse.
The folk Marianne with her guitar and sophisticated wool coat.
Marianne feeling pretty in printed shift dress, knee high socks and flat Mary Janes.
Marianne and her groovy mod look with yellow shift dress and black flats with buckles. Also her long blond straigth hair with thick long bangs are most fashionable mod look.
Marianne in white blouse, leather miniskirt and fishnet tights.
Marianne wearing detailed jacket with typical 60's A-line miniskirt and low heel sandals. Her style has already own distinctive edge to it.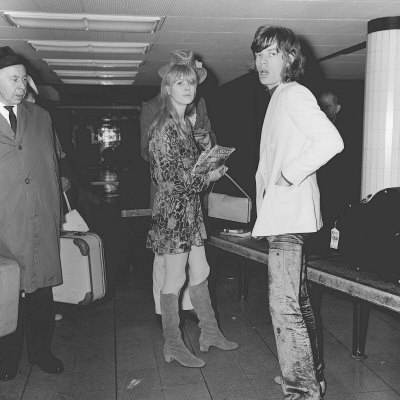 Marianne with Mick. She is wearing floaty printed shiftdress with knee high suede boots.
Marianne and Mick wearing all white on holiday picture.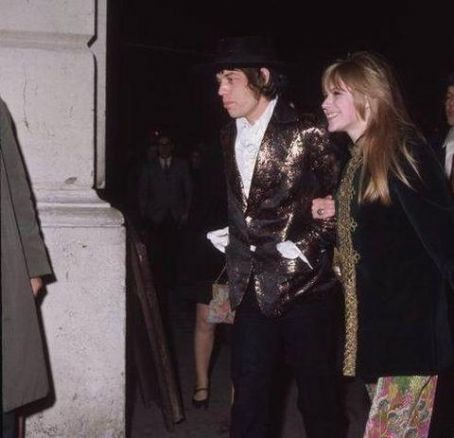 Marianne wearing velvet embroided velvet jacket and printed chiffon pants in true hippie style.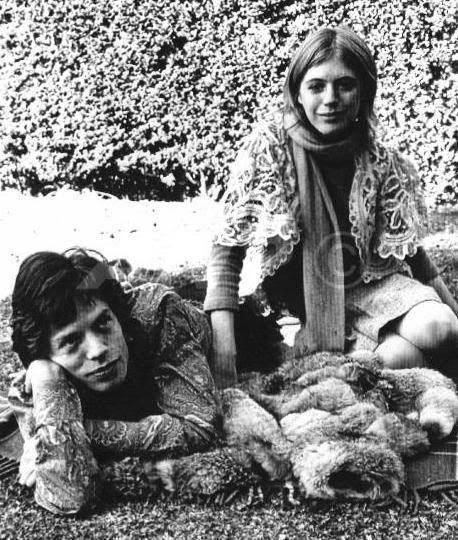 Mick and his romantic muse in fur and lace.
Marianne wearing heart shaped sunglasses and feather boa.
Wild Marianne smoking in snake print coat and knee high boots.
Fringed colourful scarf and white lace give bohemian edge to pretty Marianne.
Mick and Marianne in snake skin jacket and shorter hair do.
Marianne wearing fur, elegant turtle neck shirt and up hair do.
Skinny Marianne wearing white knit tunic and hip belt.
Marianne getting married with Ben Brierly.
Marianne, the artist in fur, elegant short hair do, scarf, dark eye make up and a cigarette.
Marianne is nowadays very respected artist.
How to get the Original rock muse look? Think straight blond hair in long or shoulder lenght, long thick bangs, dark eye make-up, shift dresses, loose blouses, A-line skirts, leather, white and black lace, different kinds of fun sunglasses, fur coats, wool coats, mens items such as tuxedo jackets and pants, flat heel Mary Janes, knee high boots in leather and suede, original pieces from antique shops, vintage clothing.