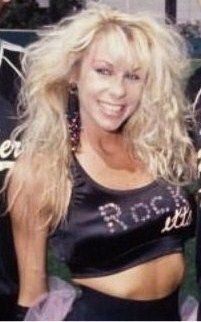 Icon:
Sharise Lee Ann Ruddell a.k.a Sharise Neil
Born:
27th October (scorpio) 1967, Huntington Beach, California
Height:
1, 63 m
Known for:
mud wrestler, stripper, second wife of Vince Neil, fashion designer
Story:
Californian born Sharise was a model but also worked as a ring girl and mud wrestler at a club called Tropicana in Hollywood. She met her rock'n'roll husband Vince Neil while wrestling. Neil has stated Sharise was "an average mud wrestler with blond hair, big tits and a killer hard body." He also told "When the girls from Tropicana came back to my house to wrestle for my friends, she was the most vicious fighter. She won everytime and look good doing it. She was just my type." Couple got married in April 1987. She appeared on several music videos in the late 80's and early 90's, such as Mötley Crüe's "
Girls,Girls,Girls
" in 1987. Vince even tattooed her lip print and her signature on his right arm. Sharise gave birth to their daughter Skylar in March 1991. Unfortunately couples little daughter was diagnosed with fatal stomach cancer and she died in August 1995 only at the age of 4. Sharise and Vince divorced in 1993. Later Sharise gave birth to son Colt in November 2002 with her now ex-partner Kirk Seigel. She has also founded sexy fashion brand
Pink Polka Dot
. In 2011 Sharise was casted to appear on new VH1 reality TV show
Ex-Wives Rock.
Style:
Sharise's style has always been like living Barbie doll with long blond hair, curvy toned body and sexy girly clothes. She was the epitome of 80's Californian girl look. She has never been too shy to show of her looks and body and has always worn sexy wear with trendy edge.
Sharise with Vince. She is wearing 80's lycra polkadot bodycon dress and white jeans jacket with long starp shoulder purse.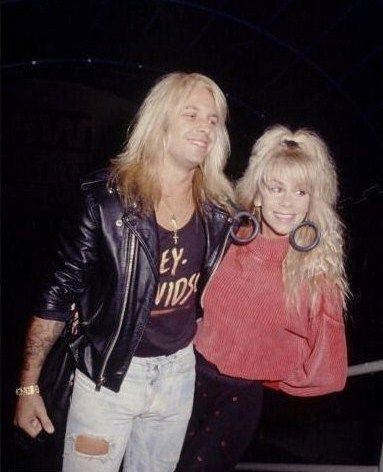 Sharise with 80's big hoop earrings, half head ponytail, baggy coral jumper and leggins.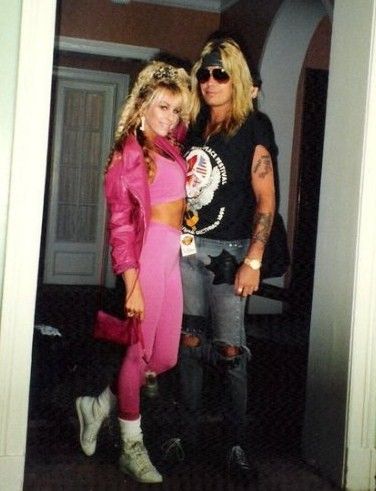 Sharise with 80's ultimate pink outfit. Cropped top, leggins, fake leather jacket and shoulder bag are all colour cordinated pink. White long sport socks, white sneakers and white big earrings give contrast colour. Leopard print scrunchie holding half head ponytail finishes style.
Sharise wearing white lycra top, high waist destroyed jeans, gold belt, gold purse and gold loafers and not forgetting oversized earrings.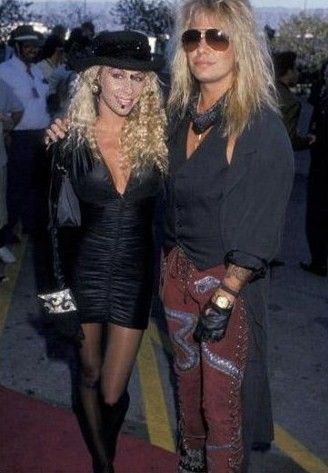 Sharise in wet look crunched bodycon, black stockings, black hat and dramatic black lace veil.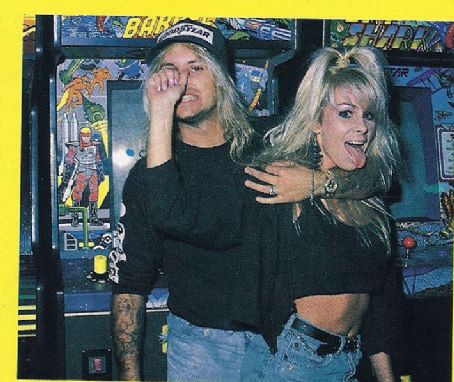 Sharise in another cropped top and high waist jeans look with half head ponytail and big earrings.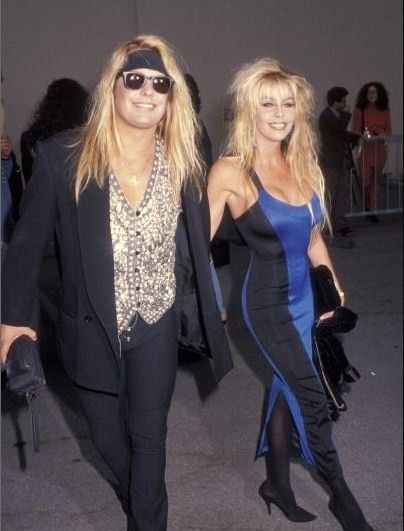 Sharise all glammed up in bright blue and black lycra dress.
Happy family with daughter Skylar.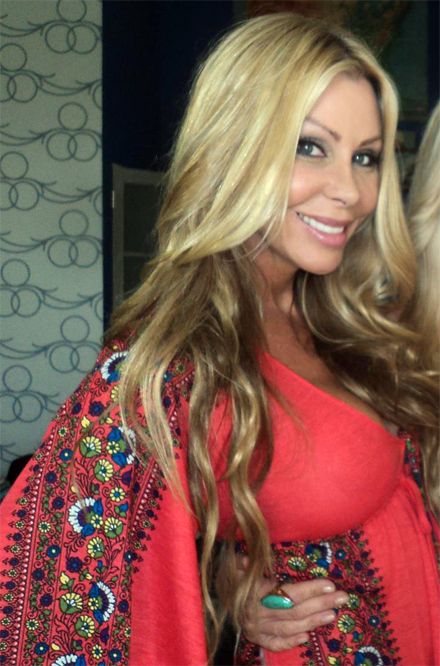 Sharise is still keeping her Californian barbie doll looks.
How to get the 80's California Barbie look?
Think blond curly and teased hair, tanning, thin and toned body with feminine curves, full make-up, half head ponytails, hair scrunchies, big earrings, lycra clothes, cropped tops, leggins, colour matching outfits, high waist light blue jeans, destroyed jeans, long strap shoulder bags, waist line.