Icon:
Sable Hay Shields a.k.a. Sable Starr
Born:
15th August (leo) 1957 Los Angeles County, California (died 18th April 2009, Nevada)
Height: 1,64 m
Known for:
well noted American groupie, closely acquinted with Robert Plant, Mick Jagger, Rod Stewart, Alice Cooper, David Bowie, Marc Bolan, Iggy Pop, Richard Hell and Johnny Thunders. Iggy Pop wrote his song "Look Away" about Sable.
Story:
Sable was born in Los Angeles County suburb of Palor Verdes. At the age of 14 she got invited to a nightclub,
Whiskey A Go Go
. She loved the scene and in early 70's she frequented also in such nightclubs as
Rainbow Bar and Grill
and
Rodney Bingenheimer's English Disco
. She and her other very young girlfriends also could be found from
Continental Hyatt House
in rock star hunting. She became the queen of the "baby groupies" which she and her friends were called due to their very young age. She continued living at home and attended Palos Verdes High School. She had her nose fixed at the age of 15. In 1973 she gave an interview for the L.A. based
Star Magazine
, where she boasted to be the best of all the local groupies. She explained her outrageous glam rock clothing attaracted musicians attention to her. Sable admitted to having got into fights with rival groupies. Her best friends were fellow L.A. groupies Lori Maddox and "Queenie". She ran away from home when 16 after meeting New York Dolls guitarist Johnny Thunders. She went to live with him in New York City but couple split up due to his violent jealosy and drug addiction. He wanted to marry him after she got pregnant with his child but Sable refused and got an abortion instead. After breaking up with him Sable moved back to Los Angeles but claimed Thunders had destroyed her Sable Starr personality. She often made frequent visits to New York where she had an affair with Richard Hell and participated in local punk scene. But by the early 80's she was no longer part of the groupie scene. Sable has been described as a warm hearted and nice person, who didn't settle being a wall flower. But her personality did have it outrageous side. The Stooges manager Leee Childers has told one time Sable tried to flirt with musician Wayne County. County was a homosexual and did not respond to Sable so she got upset, slashed her wrists and dived into a swimming pool. Sable later moved to Reno, Nevada where she worked as a blackjack dealer at a casino for a number of yers. She got married and had two children, Christian and Donnay. She died at her home in April 2009 of brain cancer at the age of 51.
Style:
She was the queen of L.A. baby groupies and she did everything to caught the rock gods eye. She had a small thin frame but she wore outrageously sexual clothes. Baby groupies were small girls wearing grown up sexy clothes. She wore all the smallest spandex pieces, all the sexiest corset tops and nothing else and all the shortest jean shorts. Her trade mark was platinum blond curly hair with bangs which also Nancy Spungen copied.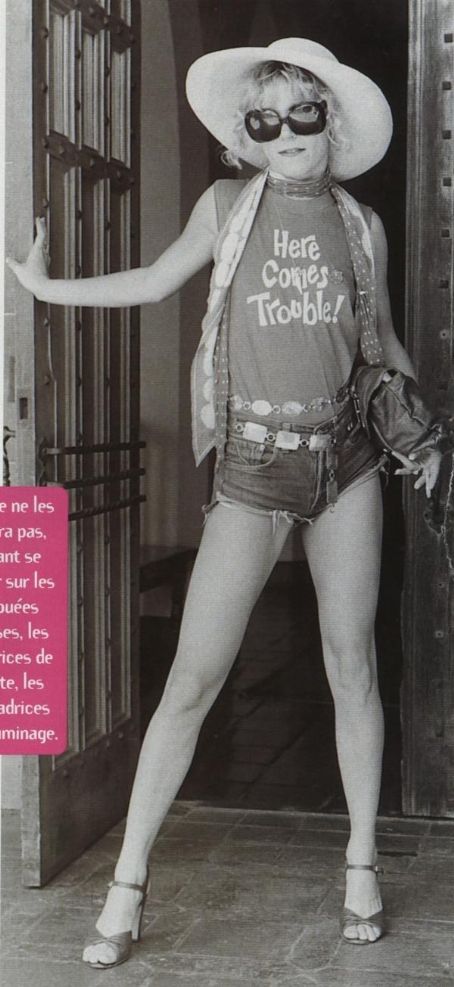 Queen of trouble in her groupie uniform of t-shirt, cut off jean shorts, sandal heels, over sized sunglasses and wide brim hat.
Baby Groupies and Rodney. Sable far right wearing tight spandex minidress and leopard print platform sandals.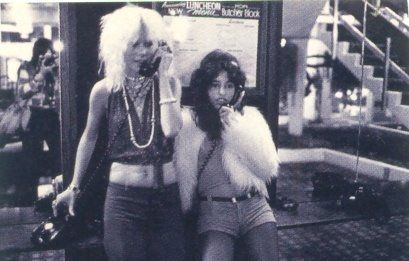 Baby groupies Sable and Lori Maddox. Sable wearing cropped wrap top and tight pants with pile of necklaces.
Sable in very low cut spandex body suit and high waist velvet pants.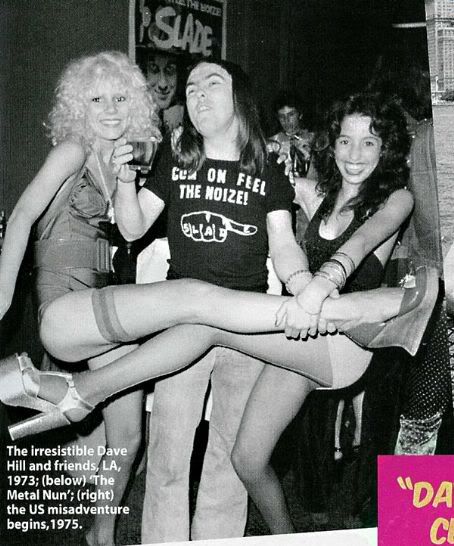 Sable wearing only a sexy bodysuit and stockings for a night out.
Sable at right in white tunic and scarf around waist. She and Nancy Spungen at left are wearing matching hair styles.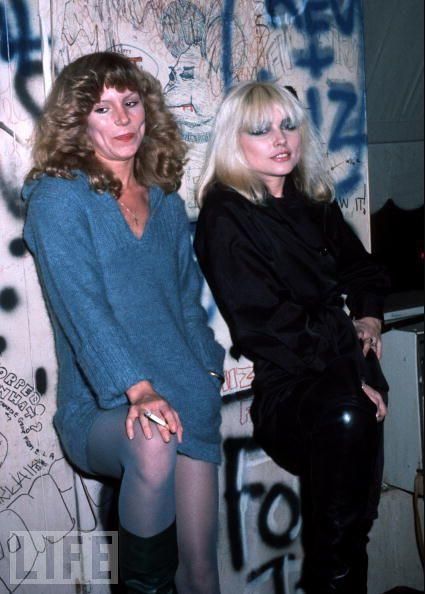 Sable in pretty blue with Debbie Harry in Whiskey A-Go-Go in 1977.
Sable in spandex with Iggy Pop.
Sable in stripy jersey tunic and thin belt on waist.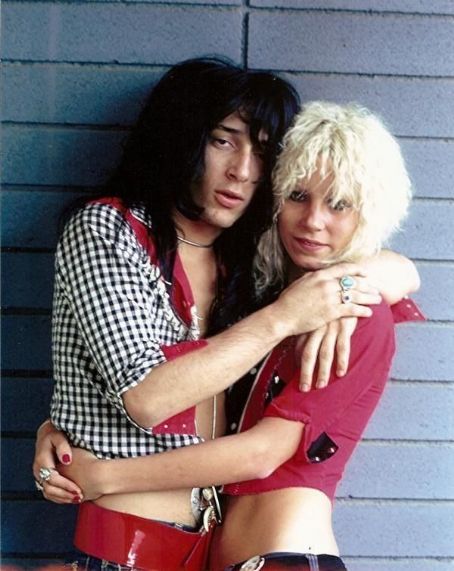 Platinum blond Sable with Johnny Thunders.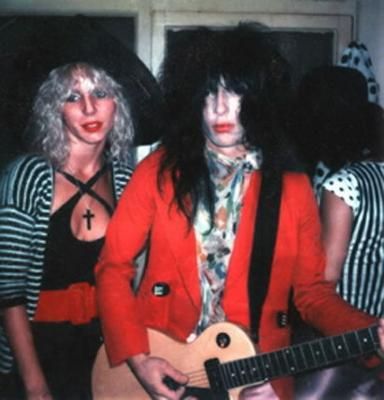 Sable and Johnny in black-white-red outfits.
Sable wearing white fur jacket, white dress and light purple tights.
Sable Starr in 2000 with Phyllis Stein.
How to get the baby groupie queen look?
Think shoulder lenght platinum blond hair with small curls and bangs, thin clid like body, no tan, plugged eyebrows, smallest and sexiest clothes, jean shorts, skimpy t-shirts, tube tops, spandex minidresses, stockings showing under skirt, platform sandals, light blue eye shadow, plunge tops, velvet bell bottoms, cropped tops, belts on waist, showing skin.