Icon:
Jane Asher
Born:
5th April (aries) 1946, London
Height:
1,68 m
Know for:
english actress, former girlfriend of Paul McCartney, author, entrepreneur
Story:
Asher was a middle of three children born to hospital broadcaster and a consultant Richard Alan John and a professor Margaret Asher. Asher started her acting career as a child in 1952 film
Mandy
. After that she has appeared on number of films and tv and radio shows and theather. She has written three best-selling novels
The Longing, The Question
and
Losing It
and also published several lifestyle, costuming and cake decoration books. Asher owns a company that makes party cakes and sugar crafts for special occasions. She is also an active President of the
National Autictic Society
. In 1963, when Asher interviewed The Baetles, she began a five-year relationship with bands Paul McCartney. Couple became engaged in 1967 but she ended the relationship in July 1968 after finding Paul in bed with Francie Schwartz. Asher met the illustrator Gerald Scarfe in 1971 and they married ten years later. Couple have a daughter and two sons.
Style:
Jane's most distinctive features are flaming red hair and blue eyes. Paul McCartney has said to fallen for her immediately and it must not have been least for her outstanding personal looks.Later she has describe her own style as classic without being mumsy. During 60's she followed greatly following trends but never took them too far. She always looked pretty and stylish, not too wild or out of control with her fashion.
Mod Jane with school uniform inspired outfit of collared jumper and check pencil skirt.
Pretty Jane with Paul in dark dress with white lace details in sleeve cuffs and collar.
Jane in conservative outfit of white gardigan and A-line check skirt.
Jane with braided hair do.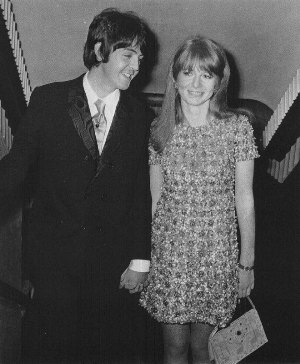 Jane in glittery bright red party frock and matching earrings.
Jane and always stylish double breasted trench coat.
Jane in colourful hippie inspired 60's cocoon dress.
Jane in white two piece and flowers in her hair.
Jane's great hippie summer style with flower print mini dress, strappy sandals and handmade hippie bag.
Jane and bright printed light chiffon dress.
Jane wearing burned orange tunic, white wide linen pants and thong sandals in hippie get-together.
Jane in white sarong and orange flowers in 1968.
Jane with husband Gerald Scarfe.
Jane today.
How to get the Sixties boho look?
Think long straight red hair, thick long bangs, black liner on eyes, nude lips, no heavy tanning, classic fitted jumpers and cardigans, paisley printed cocoon minidresses, two piece suits, pencil skirts, shift dresses, flower minidresses, flat shoes or low block heels, strappy sandals, trench coat, minimum jewerly.