Icon:
Pamela Denise Anderson a.k.a Pamela Anderson Lee
Born:
1st July (cancer) 1967, Ladysmith, British Columbia, Canada
Height:
1,70 m
Known for:
model, actress, ex-wife of drummer Tommy Lee
Story:
Small town born Pamela moved to Vancouver in 1985 after graduating
Highland Secondary School
. She worked as a fitness instructor but in 1989 her life turned around when she attended at
BC Lions
game and during the game she was shown on the stadium screen wearing a
Labatt
beer t-shirt. In October 1989 she appeared on the cover of
Playboy
magazine. She moved to Los Angeles to pursue her modeling career and she was chosen to be Playmate of the Month for
Playboy
February 1990 issue. After moving to L.A. she casted a minor role as "Tool Time girl" in sitcom
Home Improvement
. She left the show after two seasons as she was casted to play C.J. Parker on
Baywatch
. She worked on Baywatch from 1992 to 1998. Later she has done various music video and movie roles.Pamela married Mötley Crüe drummer Tommy Lee in February 19, 1995 after knowing him for 96 hours. Couple had two sons but the couple got divorced in 1998 after a very turbulent marriage. After her first marriage Anderson was in engaded to model Marcus Schenkenberg in 2001 before she got engaded to rock singer Kid Rock in 2003. Her relationship with Kid Rock ended only to light up again later and couple got married in 2006. Pair was married only few months before Pamela filed for divorce. She was also married to Paris Hilton's ex Rick Solomon for 10 weeks in 2007. Currently Pamela is dating professional durfer and environmentalist Jon Rose. Pamela herself has also been vegetarist from teenage and is active member of PETA.
Style:
Pamelas image has been always based on angelic barbie look with thin toned ultra feminine body, long blond hair, big eyes and pout mouth. On public appearances she is usually heavily made up and wearing very little to show her great physique, but on her on time, she is more than often caught wearing very casual jersey clothing without make up. She defineletly is not afraid to look the ultimate woman with all her assests on show, but the same time she is not afraid to be seen little frumpy and without any enhancement.
Young Pamela with shorter and darker hair. Her face is very recognizable.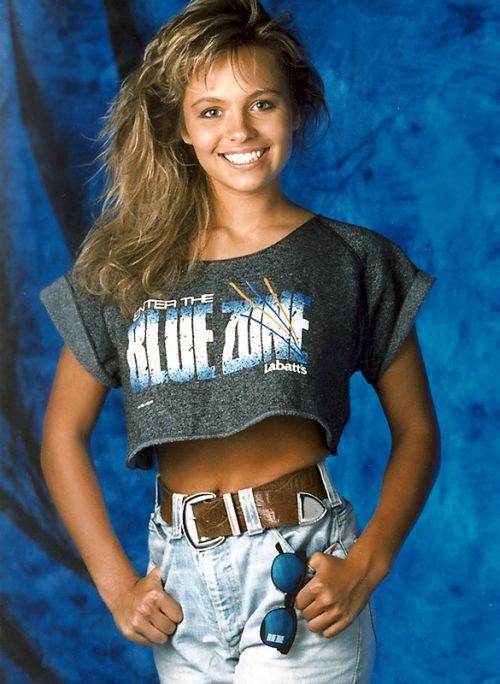 Pamela before her professional modeling career. Her photographer boyfriend Dan Ilicic produced this Blue Zone Girl poster on his own.
Pam got world wide fame when she chose to pose for Playboy magazine.
Pamela and her surgically enchanced natural beauty created new blond bombshell craze when she joined Baywatch.
Pamela and Tommy were Hollywoods hottest pair. She is wearing skimpy white outfit and pink knee high boots to boost up her perfect pin up image.
Pamela looking very pretty and sexy in short simple nude dress and open toe metallic heels.
Casual Pamela in simple white vest dress and ankle boots.
Pamela marrying Kid Rock in white bikini and a skipper hat.
Pamela in her casual uniform of white t-shirt dress, UGGs and a great tan.
Pamela in yet another skimpy white outfit.


Pamela wearing long sheer white jersey dress with heel sandals.
Pretty Pamela in brown knit dress, white wool scarf and brown loose knee high boots.
Pamela all made up with heavy make up. Her signature style is drawn plugged eyebrows, long false eyelashes, smoky eyeshadow below and above lids and nude lipstick little exaggerated over the liplines.
Pamela wearing metallic shine beige loose tunic dress with matching colour pointy toe heels.
Pamela wearing white loose shirt dress with black belt on waist.
Pamela with Jon Rose. She is wearing grey loose dress with brown belt on waist.
How to get the beach barbie look?
Think toned tanned body with curves on right places, little wavy long blond hair, plucked eyebrows, heavy smoky eye makeup, nude lipstick, or no make up at all, earthy colour tone colours, white, UGGs, heels on parties, flip flops, jersey clothing, t-shirt dresses, loose baggy mini lenght dresses, plaited belts on waist, bare legs.