Icon:
Sheri Lyn Skurkis a.k.a. Sheri Moon Zombie
Born:
26th September 1970
(libra), San Jose, California
Height:
1,78 m
Known for:
model, actress, fashion designer, wife of Rob Zombie
Scream Queen of The Zombie:
Sheri was raised in Connecticut, where she studied. In her late teens she moved to California to seek work but still spent great deal of time in Connecticut in school. She had aspiration to do cartoon voiceovers and also attended briefly Connecticut School of Broadcasting to became a MTV VJ. Throughout her twenties she was a model and a dancer appearing in many music videos. She had started dating musicians Rob Zombie who casted her on all of his videos. When Zombie's band White Zombie broke up and Zombie started his solo career, he took Sheri on tour with him as a dancer and to make costumes for the show. After dating Zombie for 13 years couple married on halloween 2002. After this she as appeared on all the movies Zombie has made and she has launched her own fashion label Total Skull.
Style:
Sheri's sexy look is based on all key elements of classic californian look - long shiny blond hair, deep tanned glowing skin, thin healthy looking physique. Her outstanding natural beauty allows her not be too keen on latest fashions and choose outfits that she likes best. She emphasizes her god-given beauty with simple colouring on outfits and allows her great body to show in simple dresses and top and jeans combo. She adds subtle rock chic to her look with leather material, ripped jeans, animal printed shoes or aviator sunglasses.
Californian born Sheri sports beach babe look with deep tan and same coloured hair. She and husband Rob Zombie often coordinate their outfits, here both are wearing casual beach-kind of wear.
Here Sheri and Rob has put on matching casual rock wear with earth tones.
Nude tube top looking very sexy with dark tanned skin.
Zombie couple in jeans and t-shirts. Sheri has feminine option with ripped white skinny jeans, feminine top and high heels.
Sheri looking edgier than her husband. Leather mini dress and 70's wide brimmed felt hat.




Sheri wearing simple and sexy blouse and jeans combo with animal print heels.
Sheri wearing printed tank top and jeans with aviator sunglasses - simple and sexy rock uniform. Tank top from her own clothing line Total Skull.
How to get the Californian Scream Queen look? Think classic clothing with edgy details, long blond shiny healthy hair, glowing healthy tanned skin, simple clothing with top and jeans, dresses, not too many colours in one outfit, silver jewelry and black eyeliner with nude lips.
To copy Sheri's simple sexy rock look get simple t-shirt for day look. Total Skull by Sheri Moon Zombie.
For evening look add sexy open-front silk blouse. In brown to emphasize tanning. Vince/Net-a-Porter.
Basic dark blue skinny jeans are a must have to the rock look. Wrangler/Asos.
To give shirt and jeans look more x-factor add animal skin pumps to it. Gucci/Net-a-Porter.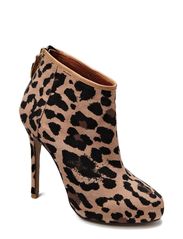 For a colder season add rock to classic boots with stiletto heels and leopard print. Friis&Company/Boozt.com.
Finish clean rock chic look with silver chain necklace with dangling skulls. Total Skull By Sheri Moon Zombie.