Icon:
Courtney Michelle Harrison a.k.a Courtney Love
Born:
9th July 1964 (cancer) San Francisco, California
Height:
1,78 m
Known for:
The matriach of grunge, marriage to Nirvana singer Kurt Cobain, music career, acting, drug abuse
Furious for fame:
Courtney has been accused of being too hungry for fame. If so, she has reached her goal too well and is now mistankenly one of the well known woman figure's in rock'n'roll history. She was born to psychotherapist Linda Caroll and The Grateful Dead first manager and devotee Hank Harrison. She spent her first years in hippie communes in Oregon and New Zealand with her mother. She grew up to be very rebellious teenager and after her mother could not handle her anymore, Courtney spent her time in numerous facilities and foster homes. By the age of 16 she was an exotic dancer in Portland. After gaining acces to her trust fund 1981 Courtney became more free and she traveled in Europe.
Getting there with the music:
Courtney started her first music projects in early 80's. She had always had friendships with musicians, but then she founded own band Sugar Baby Doll with Jennifer Finch and Kat Bejlland. Band split before getting anything on tape and after that Courtney founded new band The Pagan Babies with Kat Bejlland. Very soon after first demo tape The Pagan Babies split due to fighting and problems involving drug abuse. Later Kat Bejlland came known for band Babes in Toyland and Jennifer Finch founded band L7. In 1989 after learning to play guitar, Courtney founded her own band Hole. In September 1991 band released their first album " Pretty On the Inside" which many medias acknowledged. According to Courtney Hole's first album sold more than Nirvana's 1st album at the time. Hole has released several succes albums after this. Band was broken for a while but in year 2010 band released new material after Courtney had recruited new members for it.
Matriach of Grunge:
Courtney is most known for her marriage to Nirvana singer Kurt Cobain. The pair started officially dating 1991 and married in Hawaii February 1992. Six months later their only child Frances Bean was born. The couple struggled for the custody of their daughter after Courtney gave public comments about using heroin while pregnancy. Kurt Cobain died in 1994 after shooting himself. After this Courtney has had relationships with actor Edward Norton, singer Trent Reznor and comedian Steve Coogan.
Style:
Courtney created very distinctive grunge style in late 80's - early 90's. She became very much the feminine icon of the new music revolution. Her trademark was trashy doll look, so called kinderwhore look with messy bleached hair, bright red lipstick, porcelain white skin, vintage babydoll dresses and Mary Jane shoes. Afterwards Courtney has updated her look but always kept it very feminine - perhaps to soften her strong personality.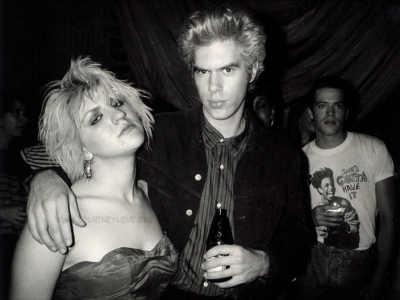 Courtney acted in Alex Cox's movies in her early career. She wanted to get Nancy Spungen's role in Sid and Nancy, but she ended up playing Gretchen, Nancy's fictional friend in the film. Courtney's style has opted a lot from Nancy Spungen's punk look.
Courtney and Kurt married 1992 in Hawaii. Courtney wore white lace and satin dress once owned by actress Frances Farmer. Kurt wore pyjamas because "he was too lazy to put on a tux".
Courtney kept true to the kinderwhore look even when pregnant. Babydoll dresses fitted perfectly with the bump.
Courtney all glammed up in white satin evening gown just like old Hollywood stars.
Dramatic effect of porcelain skin and red lips. Courtney with her band, Hole.
Strong and loud rock star with innocent white vintage dress and broken pantyhoses.
Kinderwhore look with school girl like dress, tiara and black pumps.
How to get the grunge kinderwhore look? Think innocent child-like look combined with visible sexuality, vintage babydoll dresses, broken black pantyhose, bright red matt lipstick, tiaras, bows and pins on hair, round toe shoes, white lace, satin, velvet, porcelain skin without tan, short nails with worn out nail polish.
Innocent child-like pretty dress with peter pan collar is a key piece to kinderwhore look. Asos.




Add black tights to give sensuality to a child-like dress. You can make holes to the tights to get more trashier look. Asos.
Naughty school girl look will be finished with laquer mary janes. Minna Parikka/Brandos.fi
Winter time kinderwhore look is complete with trashy looking faux fur jacket. Modekungen.se.